Primary Care Services Designed For Your Overall Health & Wellness Standards
From day-to-day medical requirements to preventive treatment, Crystals Medical Clinic offers comprehensive primary healthcare for the whole family. Here, care starts with compassion and commitment. So if you need primary care, don't hesitate to reach out.

Family Care
Excellent family health starts with meticulous care and preventive measures. We employ the best medical care steps for all our patients regardless of their age and offer treatments for a broad range of medical issues.

Endometrium Biopsy
Endometrium Biopsy is a diagnosis to ensure there are no precancerous and cancerous cells in the lining of your uterus (endometrium). This can cause some discomfort and requires some preparatory steps. If you are here for Endometrium Biopsy, our doctors will ensure you are adequately prepared and comfortable throughout the procedure.
Pap Smear
Pap smear is a test that checks for any abnormal cells on the surface of the cervix and the area around it. It checks for precancerous and cancerous cells, infections, or inflammation in your cervix. We have female physicians and nurses with us. Each check is conducted in the most private, professional, and efficient manner without compromising your comfort.

IUD Insertion and Removal
Need IUD insertion service? Whether it's an IUD insertion or removal, our goal is to ensure you are informed, comfortable, and ready for the procedure. Our doctors will help you every step of the way with the discretion, information, and care you need.
Wart Removal and Skin Tag Removal
We offer skin tag and wart removal services. All removals are performed following a consultation with one of our doctors. We do the removal in a sterile and safe environment with all necessary precautions. The skin tag or wart is tested after removal to ensure that there are no precancerous or cancerous cells.

Pediatrics
Pediatric medical care is a major focus here at Crystals Medical Clinic. Our experts offer treatments for infants, children, and adolescents. We believe that team-based care is the best way to ensure that your child's medical requirements are taken care of by a group of professionals.
Preventive Care/Internal Medicine
At Crystals Medical Clinic, everything starts with you. From the first consultation and diagnosis to the treatment plan, our goal is to ensure you get the care that you deserve. Each treatment plan is prepared after detailed evaluations and revised after further consultations. Let's set you up for the medical care you deserve.

Women's Health
We offer comprehensive women's health services, including pap tests, breast exams, and menopause management.
Our goal is to create the most positive and compassionate primary care system, to ensure you get the most positive healthcare experience. Our doctors ensure your issues are addressed promptly.

Team-Based Medical Care
We take a team-based medical approach to address a wide range of issues.
Comprehensive Primary Care
We offer non-emergency primary care for families in Alberta.

Priority Appointment
Priority appointments are made for you based on your specific issues.

Experienced Doctors
Our doctors have years of experience in the field.
Where Healthcare Get's New Definition
It's Care + Compassion + Dedication
At Crystals Medical Clinic, healthcare takes on a new meaning: care, compassion, and dedication. If you are looking for the most attentive and positive medical experience in Alberta, Crystals Medical Clinic is the place to go. Our doctors and nurses make every patient's journey as easy and stress-free as possible. We strive to address the problem at its source so you can begin your journey toward a healthy and happy life.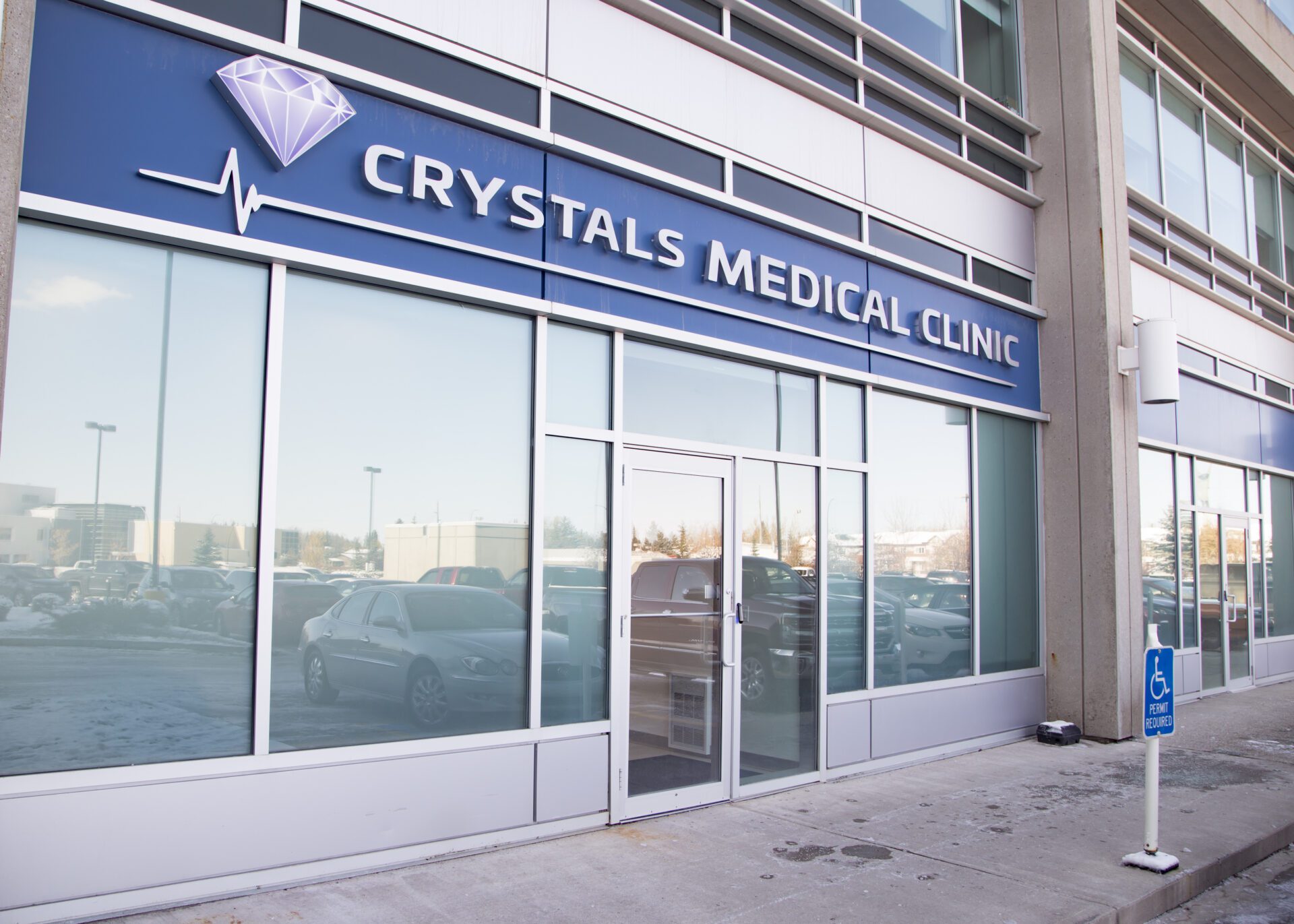 Committed Primary Care for Every
Family in Alberta, Every Time.
See Why Our Patients Love Us
Jeannine Brodie
2022-11-14
Dr. Abgi is a wonderful doctor. She has set out to find medical problems doctors in Ontario wouldnt
Favour Elegbede
2022-10-06
The clinic has a great ambience. The receptionists aren't always nice to be honest but am here for the doctor anyway. Dr. Agbi is my family doctor and she is attentive to me. She listens to my concerns and provides possible solutions/recommendations .no issues whatsoever. I recommend this clinic
Genuinely shocked to see any negative reviews about Dr. A. She is the first Dr that I felt actually saw me, heard me. It's the first time a doctor has said "Let's refer you" without a lot of back and forth. I feel believed, seen and cared for. I've recommended friends switch to her. I guess, understand not everyone communicates and understands each other easily. If you need a compassionate doctor, try her and see for yourself.
Michael M. Apostol
2022-06-17
Dr. Adedeji is without a doubt one of the best doctors I have ever seen. A super kind person, very knowledged yet never leaving anything to doubt, I always feel well looked after when my family and I are in his care! AAA+ Dr. Adedeji and staff and keep up the great work ?
I've had amazing service with this clinic. Dr Agbi is always eager to listen and help. She goes above board to help patients as well.
From Care to Cure We're With You All the Way
Good health starts with good care. We keep an eye on the health status of your entire family through routine checks and consultations.
Looking for an Observership? Contact Us
If you want to be part of an observership, we can help you. As a family healthcare clinic, we can help you gain experience in working with a variety of age groups, disease types, and care patterns tailored to each individual.